http://www.kwtx.com/content/news/Vandry-Hope-Foundation-donates-100-gift-packs-to-shelter-in-Killeen–466363643.html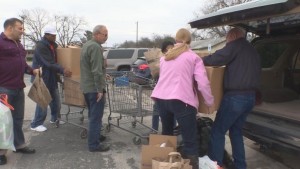 William and Chandra Vandry unloading 100 Christmas packs for Austin homeless shelter.
By Tianna Jenkins | Posted: Sun 10:18 PM, Dec 24, 2017
KILLEEN, Texas (KWTX) Vandry Hope Foundation donated 100 gift packs and other supplies to the Friends in Crisis Shelter in Killeen Sunday afternoon.
The non-profit organization was founded by William and Chandra Vandry.
The Vandry's do a lot of research on chronic pain diseases, head trauma and legal blindness disease.
They also work a lot with poverty in Central Texas.
They also do work with PTSD veterans and chronic pain veterans.
William grew up in Killeen. His dad was station at Fort Hood.
The dynamic duo has been doing charitable work for years and decided to give back to the Friends in Crisis Shelter in Killeen this Christmas.
"We found out about this and we knew we could make a difference," William said.
"We knew we were going to make an impact here."
The Vandry's donated one hundred gift packs and some supplies that the shelter and those who stop by might need.
"It's a food pack. It's got Vienna sausage, protein bars, water, candy cane, applesauce and little cleaning wipes," Chandra said.
"It's not like huge big thing but for somebody who is homeless, it's maybe a meal for a couple of days."
The shelter is a program for the non-profit organization Families in Crisis. It is a 78-bed facility opened to men and woman.
Suzanne Armour is the director of programs. She says when people donate things to those at the shelter it gives them hope.
"When someone gives like this it lets our clients know that there are people that care about that they don't even know," Armour said.
"It's comforting for everyone to know that there is something out there and that there is hope and there is someone that has your back."
The Vandry's hope more people will start to donate.
The size of the donation does not matter. Anything can help make a difference in someone's life.
The Vandry's thank everyone who pitched in to help with the donation and hopes this event will be a ripple effect in helping those in the community who need it.