Vandry Hope founders William and Chandra Vandry met with Congressman Bill Flores (R-Texas) August 21, to discuss their concerns with Veterans they have worked with regarding PTSD, Chronic pain, Insomnia, and the opioid crisis.  Chandra presented a demo video on research they have done with veterans, with impressive results.  Congressman Flores was impressed with the demo, and is quoted in the above video with William Vandry:
 "William, thank you and Chandra for meeting with me today, and we appreciate what you're doing to help our nation's veterans, as well as our current military men and women who sacrifice for us daily, to keep our country safe.  It sounds like you've come up with some great ideas on how to deal with some of the current issues at the time relating to PTSD, Opioid abuse and Chronic pain management.  We are going to try to find folks within the VA, also within the military that may be interested in visiting with you to deal with these issues, so thank you for coming today."
– U.S. Rep. Congressman Bill Flores (R-Texas)
The Vandry's also met with Senator Dawn Buckingham's assistant on Veterans affairs.   Buckingham was in a meeting in Temple, and is on the Veteran Affairs & Border Security office.  A follow up meeting will be made with Senator Buckingham.
William was pleased with Congressman Flores:
"He seems like an advocate for our military, and for people.  His father was in the military and so was mine, as well as Chandra's.  We look forward to meeting with VA and a few clinics on developing new awareness on opioid issues, and medical research on alternatives."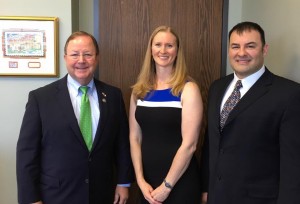 Photo: Congressman Flores, Veteran's advocates Chandra and William Vandry